Take a 3 day / 2 night flying adventure exploring the unique landscapes and rich history of western Queensland. This fully guided experience will introduce you to some of the outback's past and present legends as they share their stories of life on the land. From the comfort of your helicopter we will also visit some of the most remote and beautiful country that is only accessible from the air. Even though you're way outback, you don't need to leave the comforts of home behind. Your hosts Deon and Lane provide beautiful exclusive accommodation, and Paddock to Plate dining.
The Outback Adventure Of A Lifetime Awaits.

DAY 1


⁃ 11:30am, Meet and greet your hosts Deon and Lane in Longreach at destination of guests choosing.
⁃ 12:00pm, Queensland helicopters base for preflight brief and meet your pilot
⁃ 12:30pm, Fly eastward over historic Wellshot Station to outback town of Ilfracombe
⁃ 12:45pm, land Ilfracombe airport, Transfer to the Wellshot hotel with publican and guide Tracy Hatch
⁃ 1:00pm, Soak up the history over a few cold ones and enjoy lunch on the veranda
⁃ 2:30-3:00pm, Saddle up and fly northeast over the vast Mitchell grass plains to Shandonvale Station
⁃ 3:30pm, Land at the Homestead and check in to your outback hotel
⁃ 5:00pm, watch the sunset over the beautiful Lynch waterhole with pre-dinner drinks and canapés
⁃ 7:00pm-9:00pm, Enjoy dinner at the Homestead, focussing on local and homegrown produce


Ilfracombe Airport
Mitchel Grass Plains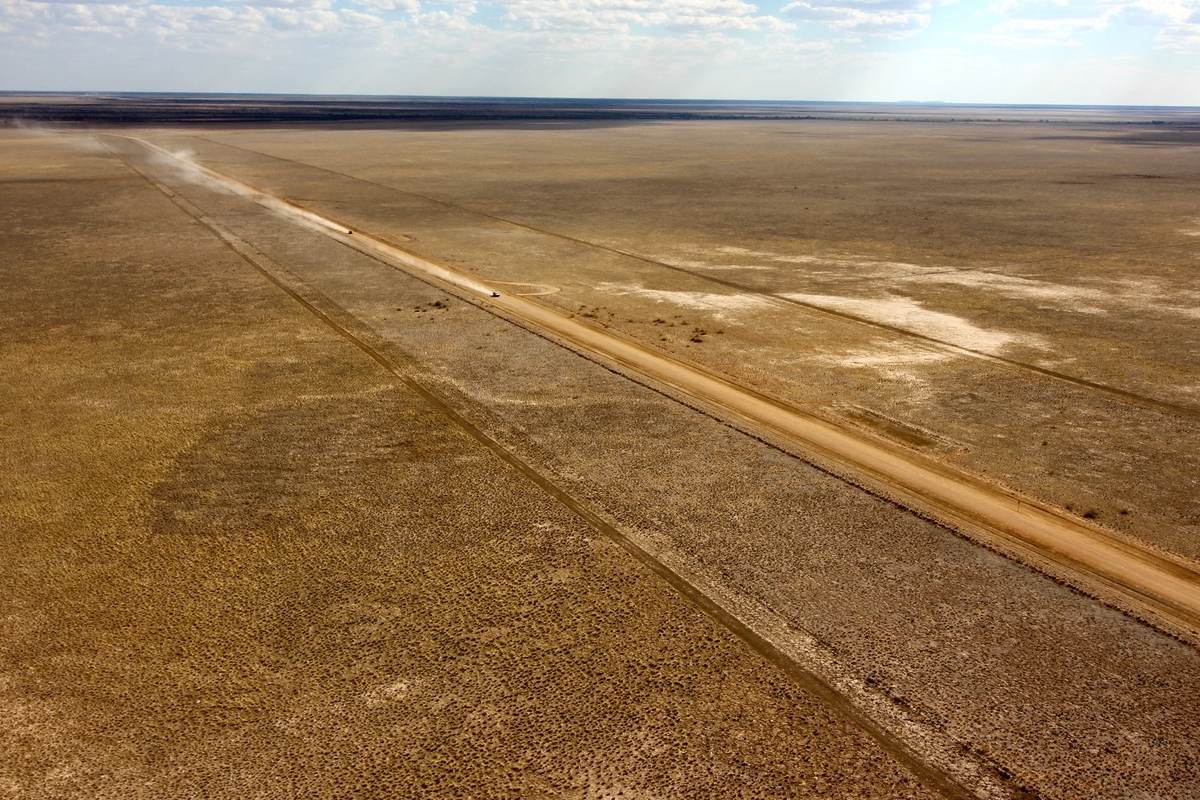 Shandonvale Homestead
Sunset Drinks

DAY 2


⁃ Hook into a hearty Station Breakfast
⁃ 10:00am, Take a morning tour of the Station animals, pets and garden with your guide Lane.
⁃ 11:00am, Back in the helicopter and push Northeast into the Desert Country. Fly over Ancient Artesian springs, and onto Lake Dunn.
- 12:10pm, Drop down and land on a remote island for a Drovers Lunch
⁃ 12:45pm, Hit the skies again, tracking southwest over rugged spinifex and wattle country, and drop into your next destination, Turraburra. Meet your host Suzanne Thompson, local Iningai elder, for a comprehensive culture and bush tucker tour.
- 4:30pm, Back in the chopper, fly south over the unique artwork of the Lake Dunn sculpture trail.
⁃ 5:00pm, Landing back at Shandonvale, after a big day exploring treat yourself to a sunset Artesian tree top bath experience, kick back with a champagne and enjoy the raw beauty of the country on dusk
⁃ 7:00pm-9:00pm Swap some yarns over dinner and wine at the homestead till late



Sculpture Trail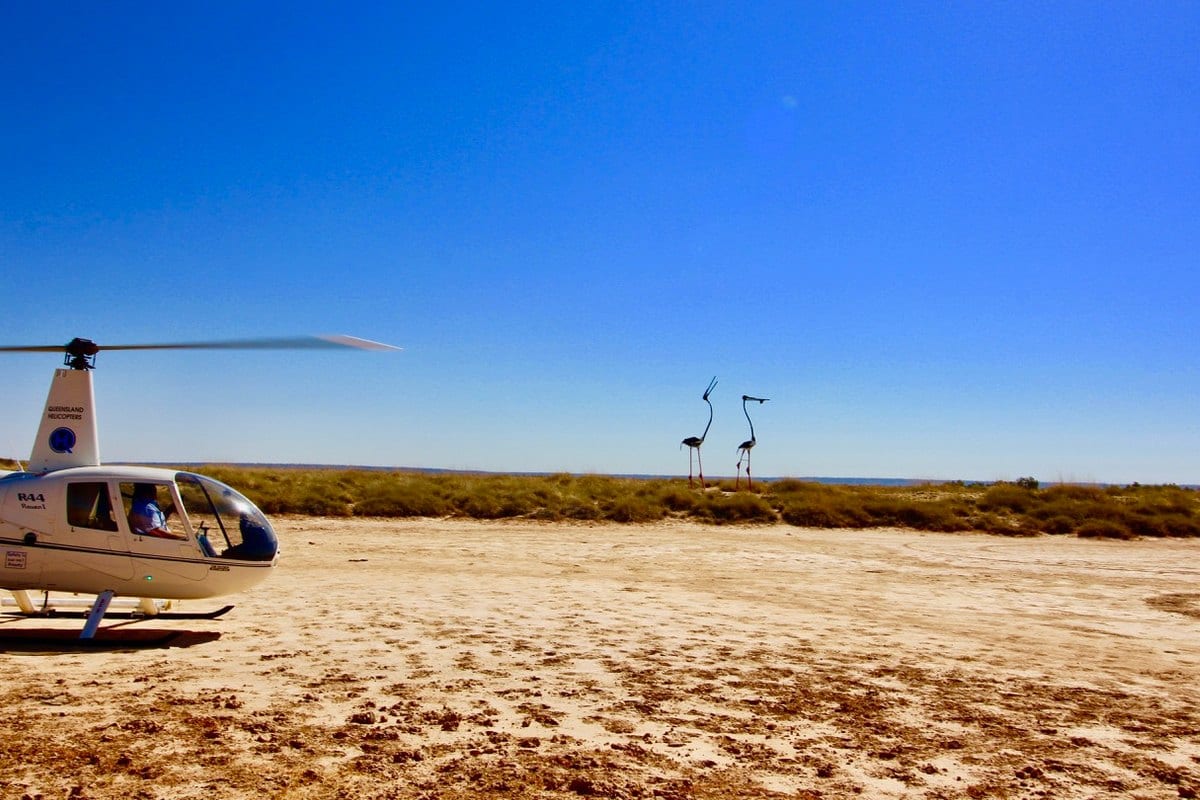 Lake Dunn
A Drover's Lunch
Artesian Treetop Bath

DAY 3


⁃ Watch the sunrise over the claypans of Aramac Creek and cook up a paddock to plate Breakfast
⁃ 10:30am, Pack the helicopter and your bags ready for the last leg of your Adventure
⁃ 11:00am, short Flight to the history rich town of Aramac where local legend Cojo Coulton will take you on a 45min guided tour of the place that won't be easily forgotten
⁃ 12:00pm, Airborne again head west to the meeting of the waters "Muttaburra" where the Bangal, Towers hill, and Cornish creeks join to create the mighty Thompson River
⁃ 1:00pm, Ditching the helicopter at the back of the pub, enjoy a look around town followed by a coldie and lunch
⁃ 2:30pm, Journey South over the broad water and follow the every widening channel country to the famed lookout of the legendary cattle duffer Harry Redford. As we continue South, our final destination appears on the horizon "Longreach" the Capital of western Queensland
⁃ 3:30pm-4:00pm, Final goodbyes and cheers to a great outback adventure (Bag drop off and Transfers to accomodation etc)

The Channel Country
Thompson River
Muttaburra Pub
Captain Starlight Lookout
Book Today

- All enquiries or to reserve a booking please email Deon
[email protected]
or phone 07 46511685
- $4100 pp (includes all flights, tours, accommodation, bag transfers, meals and beverages)
- Bookings of 2 or 4 pax (5 on request)
- Max combined passenger weight 180kg (2pax)
- Please be aware these tours can change flight paths or be cancelled due to weather events, however a full refund will be given.
FLIGHT PLAN